Welcome to Adopt-A-Pet-Sheep where funnily enough you can Adopt A Pet Sheep online. Adopting a sheep for yourself or a friend will ensure that is well fed and cared for on the farm that it was born, beside all of it's adopted friends, lazing out it's days and giving birth in the springtime to more fluffy lambs for adoption.

The recipient of your adoption gift will recieve an automatic email through the site and be able to read the message that you leave them. What a surprise for a loved one, friend or someone you would like to play a practical joke on. Whatever reason you choose to adopt a sheep for somebody it will certainly be an unusual christmas present, birthday present or just a present saying I love you.

Simply select a sheep fill in a few details and pay online for an instant sheep adoption.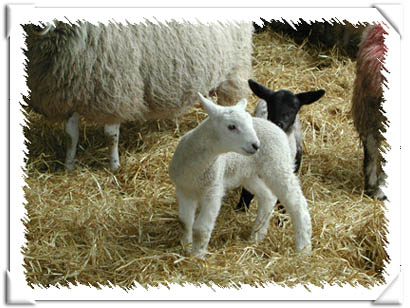 Click the photo above to continue your sheep adoption. The sheep for adoption are real sheep and lambs from a real Scottish farm. Adopted sheep are kept as the mothers (ewes) and some fathers (tups) for the adoptive flock. This is a real farm which actually works as a sheep and beef farm also producing some barley, hay and silage for feeding the animals. There are five hundred ewes on the farm which give birth to a thousand lambs every year. Most of the lambs go to the market before they reach a year old. Farmer Bob retains all of his adopted lambs to replenish his herd, at least 10% of the herd are replaced every year as some of the ewes become to old to bear offspring.